Traditional Chinese Medicine (TCM) is a millennia-old medical system that came to us from the East and is a wonderful addition to normal conventional medicine (holistic medicine).
What does Chinese medicine have to do with cats?
The specialty is that the system (TCM) was created by observation.
The therapist not only asks about the acute symptoms but also about the "trimmings." For a diagnosis, he needs to assess the living conditions of the human or animal patient about the social environment, nutrition, which weather intensifies the complaints, and what is good for the patient.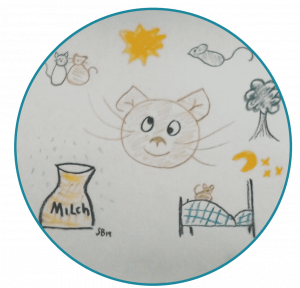 However, the first step is to observe the living being and, as a result, assign it to the so-called 5-element types. Each type shows certain physical and mental characteristics, which accordingly also give rise to individual clinical pictures.
A gastrointestinal infection in two cats in conventional medicine is perhaps treated with the same antibiotic. In TCM, the treatment is adapted to the individual patient, also conc and husbandry, and can therefore look completely different for each animal.
It is a pleasure and a challenge for the therapist to recognize these types; according to the Rhenish saying, "every Jeck is different." I mean, every Jeck needs a different treatment …
Or do the Rhinelander have Chinese roots?
(wrong topic!)
Now the practical implementation follows:
Water type
"Everything comes from the water"  The cat, "little one," is petite and looks younger than his siblings of the same age. He is anxious, is afraid of everything unknown and noises, likes to hide, and falls into "paralysis" if he cannot find a place to hide. As a kitten, he had cystitis and liked to mark the apartment or the shoes of Frauchen's new sweetheart when there is uncertainty. He loves to drink water, especially from the bathtub tap and prefers it to be warm and cozy. When it's cold, he doesn't pull around the block but is holed up in his scratching post. "Smaller" is the water type, also called the bladder/kidney type.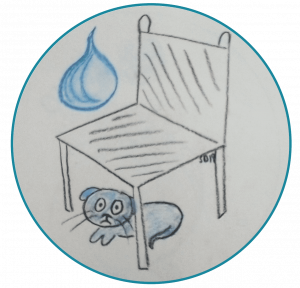 Wood type
"Swinging back bamboo"  "Rambo" is a stable-looking strong black cat with various purulent ear problems and scratches and tends to be very itchy. He is the boss of his and other territories, does not avoid a fight, does not pay alimony, and, despite his scratches, finds himself irresistible and attractive. He suffers from mood swings, creeps tenderly around the legs of Frauchen's new sweetheart, then suddenly turns around and bites heartily in his calves, which has often led to separations. He doesn't take prisoners! He is the real man in the house and enjoys his food with the parsley garnish and woman's devotion. "Rambo" is the so-called wood or liver/gallbladder type.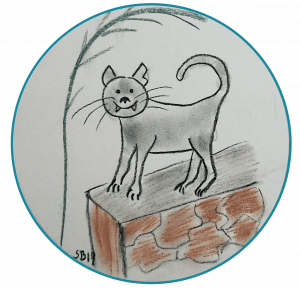 Fire-type
"It makes your heart open"  "Duchesse" is a beautiful, distinctive Siamese. She knows how to pose and attract attention. To do this, she permanently uses her voice, which is not necessarily attractive for human ears. She is looking for tenderness and closeness, but if you want to hold her tight, she becomes hysterical, suddenly scratches, and mistress fear a heart attack on her beloved animal. The planned annual visit to the vet brings stress to the mistress months in advance. Duchesse can't cope with the heat in summer and goes into the cellar. "Duchesse" is the so-called fire or heart-type.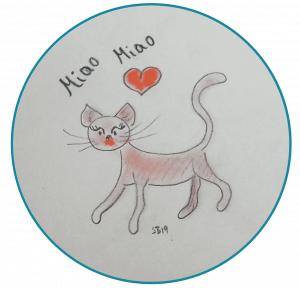 Earth type
"All you need is food"  "Garfield" is a little more than slightly overweight. Food is the greatest thing for him. Mice catching wasted energy because you have the can opener at home. Garfield loves coziness, likes to sleep late, is gentle, and wants his mistress to be well when they enjoy toffee ice cream together in the evening while watching TV. The short inspection passage from the patio door is enough to move. Because any stress from possible arguments with "Rambo," who is currently trying to expand his territory, inevitably leads to vomiting and diarrhea. That would be a shame about the ice cream! Garfield is an earth or spleen/stomach type.
ALSO READ: Kitten food: this is how you feed your kitten properly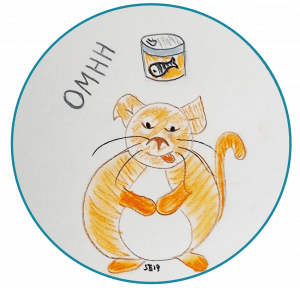 Metal type
"Reliability and loyalty"
Galahad, a tall, gray, slim tomcat with chronic cat flu, is predictive in his territory and avoids arguments. He is prone to allergies and dry skin.
He needs his times and his rules.
Galahad is a reliable, not so flashy, but faithful companion.
He is a metal or lung-colon type.
What do we do with the constitution types?
According to the motto "body and soul" belong together, the TCM veterinarian would create a treatment plan appropriate to the disease. If the patient is not yet optimally supported in his health by his "trappings," a diet adjustment and/or a change in his living environment can be helpful.
The little "Aquarius" would be offered sufficient warm and safe retreats. Wood-type Rambo would be put a little more in his place so he couldn't bite his calf at night. The duchess, prone to hysteria, would be prescribed Bach flowers as a fire type before visiting the vet (and mistress at the same time). The "wolverine" and earth type Garfield would SORRY get a ban on coffee and ice cream. And with the metal type Galahad, strengthening the immune system would be recommended before the "main cold times."
ALSO READ: how to socialize a cat Tips to Help